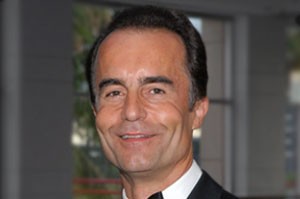 Please join us to hear the compelling and remarkable Jewish Journey of Dr. Bernd Wollschlaeger - the son of a decorated Nazi tank commander.
Dr. Bernd Wollschlaeger was fourteen when he discovered his father's role as a Nazi in World War II. That moment began Bernd's journey to learn more about Judaism, to convert and move to Israel, and to enlist in the IDF.  Dr. Wollschlaeger' credo is that hatred starts with a word uttered quiet and then louder. 
This is a fundraising event in support of Holocaust and Human Rights Education. General Admission is $18 or $20 at the door.  We are accepting sponsorship donations that will help support Holocaust & Human Rights Education and give you an opportunity to pay tribute to a loved one. This tribute will be printed in the program guide and will be a keepsake for many generations to come.  Register (above) to purchase admission to this extraordinary evening and to explore tribute opportunities.