Israeli Consular Services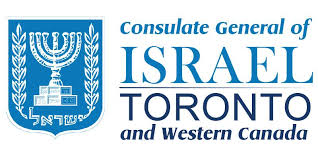 For more information on the next consul visit to Calgary, please email info@jewishcalgary.org.
Not sure if you need to make an appointment?  Please click here to go over the services that require a personal meeting.
 

You will be asked for:   
First and Last Name
Email address
phone number
Teudat Zehut #
Passport #
The purpose of the meeting
Serving Toronto and the Western Provinces, the Consulate General of Israel in Toronto furthers relationships with national and local organizations, public officials, businesses, cultural and academic institutes and citizens. An official representative office of the Government of Israel, the Consulate can provide helpful information for Israelis living abroad. Please see the links below for information about everything from travel documents to importing pets.

To learn more, please visit the Israeli Consulate's website.

The Consulate is located at:
2 Bloor Street East
Suite 400
Toronto, Ontario  
M4W 1A8​
Tel: 416-640-8500